Filipa César and Louis Henderson, Sunstone, 2018
Outdoor screening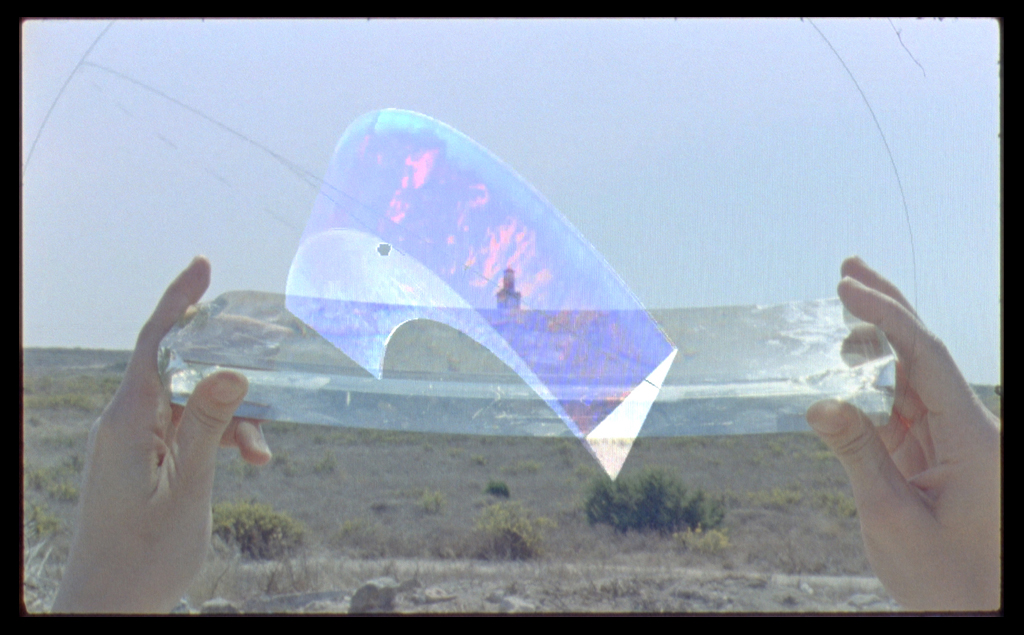 Initially programmed in collaboration with the Institut audiovisuel de Monaco in the frame of the " film d'artiste" label of "Tout l'art du cinema".
6 – 9pm: Free access to the exhibition Variations – Eugène Frey's Light Set Projections presented by João Maria Gusmão
9pm: Beginning of the screening: free entrance, subject to the number of seats available; reservation is mandatory (public@nmnm.mc). In case of bad weather, the screening will be cancelled.
From lunchtime on, « Le raisin de vivre », a nomadic wine cellar, will offer you a both rigorous and original selection of local and foreign wines as well as cheese and cold meat assortments and other regional products.
---
Sunstone, 2018
By Filipa César and Louis Henderson
France, Portugal, 2018, color and B&W,
34 min. Original version (Portuguese) subtitled in French
First part
All That is Solid, de Louis Henderson (Royaume-Uni, 2014, 15 min. Original version (English) subtitled in French.
Sunstone by Filipa César and Louis Henderson presents a portrait of Roque Pina, the keeper of the Cabo da Roca lighthouse on the westernmost tip of continental Europe. He speaks off-camera about his work and complex origins as the son of a man from Cap Vert who fought alongside the Portuguese. He claims the need for a lighthouse philosophy. César and Henderson respond to his demand: through and beyond its portrait of the man, Sunstone explores the optical metaphors in Enlightenment rationality by means of two forms of lens-based technology – the lighthouse and the camera – at a time when they are being replaced respectively by GPS algorithms and synthetic images. The lighthouse becomes a figure from an ambivalent heritage of discovery and orientation, of notion as epistemological as they are territorial.
---
Filipa César (b. Porto, 1975) is an artist and filmmaker interested in the porous boundaries between the moving image and its reception, the fictional dimensions of the documentary and the economies, politics and poetics inherent to cinema praxis. Great part of César's experimental films have been focused on the specters of resistance in Portugal's geo-political past, questioning mechanisms of history production and proposing spaces for performing subjective knowledge. Since 2011, César has been researching the origins of cinema in Guinea-Bissau, its imaginaries and potencies, developing that research into the collective project Luta ca caba inda (the struggle is not over yet). She was a participant of the research projects Living Archive (2011-13) and Visionary Archive (2013-15) both organised by the Arsenal – Institute for Film and Video Art, Berlin.César premiered her first feature-length essay-film Spell Reel (2017) at the Forum section of the 67. Berlinale, 2017. Selected exhibitions and screenings have taken place at: 29th São Paulo Biennial, 2010; Manifesta 8, Cartagena, 2010; Haus der Kulturen der Welt, Berlin, 2011–15; Jeu de Paume, Paris, 2012; Khiasma, Paris, 2011–2015; Kunstwerke, Berlin, 2013; SAAVY Contemporary, Berlin 2014–15; Tensta konsthall, Spånga, 2015; Mumok, Vienna, 2016; Contour 8 Biennial, Mechelen and Gasworks, London; MoMA, New York, 2017.
Louis Henderson (B. Norwich, 1983 ) is a filmmaker. In 2007 Henderson received a First Class BA Honours in Film and Video from London College of Communication, and in 2013 graduated with 'felicitations du jury' from Le Fresnoy – Studio National des Arts Contemporains. He has shown his work nationally and internationally, including Rotterdam International Film Festival, CPH:DOX, Le Printemps de Septembre, Belo Horizonte Film Festival, Jihlava Documentary Festival, EMAF Osnabrueck, British Film Institute, Centre Pompidou, Museo Reina Sofia, Tate Modern and Whitechapel Gallery.Henderson's films can be categorized as documentary-fictions that engage with subjects such as post-colonialism, history, politics and anthropology. His cinema reflects on society's cultural and material remains and as such his films are essentially archaeological; focusing on the signatures of the archaic in the contemporary.In 2015, he received the Barbara Aronofsky Price for emerging visual artists in the 53rd edition of the Ann Arbor Festival USA and the Best European Short Film at the International Film Festival T-Mobile New Horizons in Wroclaw, Poland.His latest films are produced by Spectre and distributed by Phantom (FR) and LUX (UK).
He lives and works in Paris.