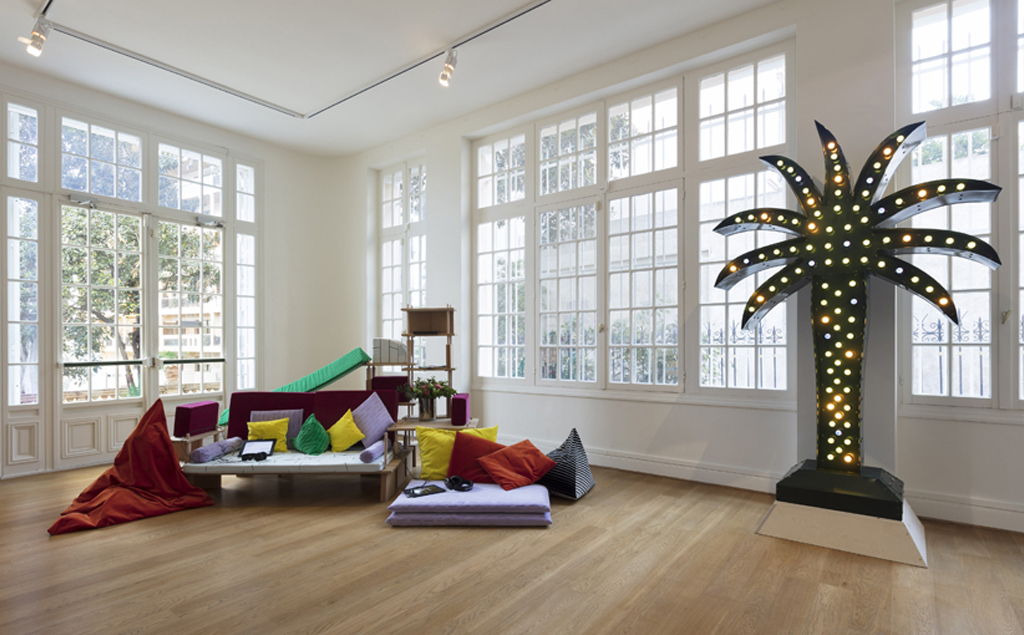 Le salon de lecture is Villa Sauber's mediation space. Renewed for each exhibition, it is the object of an invitation made to an artist or designer. After Adrien Rovero, Antoinette Poisson, Stéphane Magnin, Nathalie Du Pasquier and Andrea Blum, artist Yto Barrada in collaboration with designer Stéphanie Marin was invited to transform this space into a geological salon, inspired by Morocco's lithological and geological maps.
---
Lithology is the study and mapping of rock formations, either by examining exposed cross-sections or using core samples or microscopes. Lithology graphically charts color, texture, grain size, and composition; to express this data in diagrams, geologists created a mapping convention, in which colors and patterns represent the composition of rocks and geological time periods.

While I was researching the geology of Morocco and the artisanry of preparing (and faking) fossils, I discovered this symbolic language in some magnificent handmade documents in the archives of a museum.

Forms of abstraction; play; visual teaching tools — these are close to the center of my artistic practice. This encounter with geology inspired me to create pedagogical objects and sculptures, a series of photograms, embroideries, and this playground made of soft blocks.
Salon géologique I is a nomadic trunk on wheels, it contains a set of forms of various densities, blocks, bricks, cubes or graphic and coloured velvet triangles.
Once deployed in the space, it takes the shape of a small autonomous world, composed of elements at the scale of furniture, which come together as a metaphorical and dynamic landscape.
For this exhibition at Villa Sauber, the Salon géologique includes two other works by Yto Barrada:
A Guide to Trees for Governors and Gardeners (2014) is a film shot in the miniature environment of Yto Barrada's motorised diorama Gran Royal Turismo (2003), a unique work by the artist, which was recently acquired by the NMNM. The camera follows the procession of an official delegation as it passes through a small Moroccan town made of pasteboard. As the cars go by, perfectly trimmed palm trees pop up from the ground, a red carpet appears, the faded and grubby walls of the houses are instantly freshened up, the streetlights come on and flags ripple in the breeze. Once the cars have passed, everything returns to normal.
The palm tree, emblematic of Morocco, and a recurring motif in the work of Yto Barrada, is a symbol of exoticism but also of the domestication of public space and of alienation. The sculpture Green Palm (2016), made of sheet metal, iron, and a hundred or so coloured bulbs, borrows the form of a roadside advertising sign. Barrada interrogates the uses of the palm tree, from the vast monoculture of palm oil plantations; to urban planning, where palms line avenues; to the nomadic lives of these trees, which are often uprooted to become elements of urban decor.
---
Yto Barrada was born in 1971 in Paris and grew up in Tangier. She lives and works in New York.
Her work includes photography, sculpture, film, prints, textile works, books and installations.
Barrada's work is in the collections of the Metropolitan Museum (New York), the Museum of Modern Art (New York), Centre Pompidou (Paris) and Tate Modern (London). Her exhibitions have included Kunsthalle Basel, Witte de With (Rotterdam), Jeu de Paume (Paris), Palais de Tokyo (Paris), the Renaissance Society (Chicago), Whitechapel Gallery (London), the Hayward Gallery (London), the São Paulo Museum of Art, and at the 2007 and 2011 Venice Biennales.
She was nominated for the Deutsche Börse Photography Prize in 2006 and the Prix Marcel Duchamp in 2016. She was named Deutsche Bank Artist of the Year in 2011 and won the Abraaj Group Art Prize in 2015.
Barrada is the founder of Cinémathèque de Tanger.
She is represented by Pace Gallery (London | New York), Sfeir-Semler Gallery (Beirut | Hamburg), and Galerie Polaris (Paris).
---
Born in 1973 in Marseille, Stéphanie Marin lives and works in Nice.
Sensitive to the immaterial dimension of Design, the emotions it can bring out, Stéphanie Marin works on the relation to the body, the space and the light.
We naturally find her collections in many museums: MAK Museum in Vienna, la Cité Radieuse Le Corbusier in Marseille, Malmö Museet in Sweden, l'Aubette 1928 in Strasbourg, les Abattoirs de Toulouse, Imiloa Astronomy Center Museum in Hawaii, Palais de Tokyo in Paris, Lenbachhaus Museum in Munich, Reattu Museum in Arles, Museo delle Scienze in Trento, the MAMAC and the Villa Arson in Nice, and the French Pavilion at the International Biennial of Contemporary Art in Venice in particular…