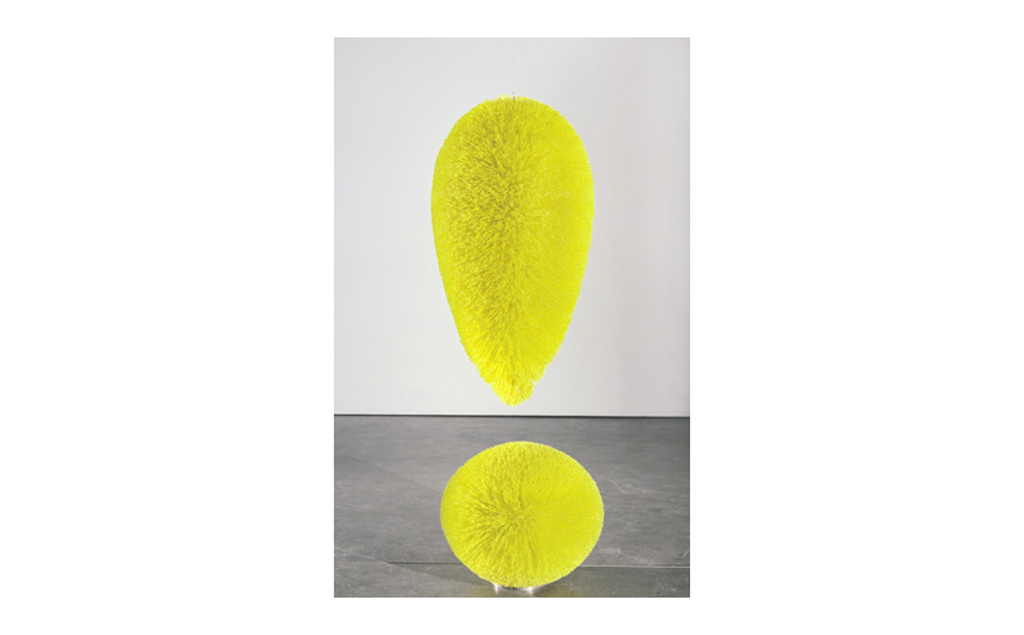 Richard Artschwager! is the most comprehensive retrospective to date of Richard Artschwager's (1923–2013) work.
The exhibition is organized by the Whitney Museum American Art, New York in association with the Yale University Art Gallery, New Haven, and curated by Jennifer Gross, Chief Curator and Deputy Director for curatorial affairs at the deCordova Sculpture Park and Museum, in Lincoln, Massachusetts. The NMNM's presentation is organized by Director Marie-Claude Beaud. Following the presentation of Richard Artschwager! at Whitney Museum, New York, the exhibition travelled to the Hammer Museum, Los Angeles,and the Haus der Kunst, Munich.
---
The exhibition features over 135 works spanning six decades, including sculptures, paintings, drawings, photographs, and prints. Often associated with Pop, Minimalism, and Conceptual art, his work never fit neatly into any of these categories. His artistic practice consistently explored questions regarding his own visual and physical engagement with the world; his objects straddle the line between illusion and reality. The exhibition reveals the artist's prescience in his career-long commitment to exploring the profound effect photography and technology have had in transforming our engagement with the world. His work has responded to and challenged how these media—and our experience of things as images rather than as things in themselves—have shifted human experience from being rooted in primary physical experience to a knowledge mediated by secondary sources such as newspapers, television, and the Internet.
The NMNM presents in the seven exhibition spaces of Villa Paloma, a retrospective that articulates different series, ranging from the first experiments using Formica to the drawings, paintings on industrial materials and furniture pieces. The exhibition, in its last presentation, is the occasion to discover and better understand the work of this major pioneer of contemporary art. For more than fifty years, Richard Artschwager (1923-2013) remained steadily at the forefront of contemporary art. He began making art in the 1950s, had his first one-person exhibition at the age of forty-two at the Leo Castelli Gallery in New York in 1965, and made his first appearance in a Whitney Annual in 1966.
As Jennifer Gross notes in her catalogue essay, "The works presented here both defy and affirm our aesthetic expectations, occupying the familiar spaces of sculpture and rehearsing painting's traditional genres. Yet they hover just out of reach of our physical and visual anticipation of what they should be or reveal to us. Artschwager stated early in his career that he wanted to make 'useless objects'—art that would halt our absentminded engagement with the world around us and insist upon visual and physical encounters in real time and a shared space. The works presented in this exhibition attest to the originality and persistence of his vision."
Artschwager long used commercial and industrial materials in both his paintings and sculptures. A gifted woodworker who made his living making furniture throughout much of the 1950s, he began to incorporate Formica into his art, calling it "the great ugly material, the horror of the age, which I came to like suddenly . . . it looked as if wood had passed through it, as if the thing only half existed . . . But it's a picture of something at the same time, it's an object." Artschwager became increasingly interested in combining wood and Formica in his art and by the early 1960s he was using these materials to create works that hovered between painting and sculpture and frequently took furniture as a point of departure. He worked with a vocabulary of domestic forms in an attempt to articulate space and our perception of it. Similarly, in 1962 he started to paint on Celotex fiberboard, an inexpensive construction material with a rough surface that gives his painted works the look of something distantly recalled. For decades he examined the relationships between fundamental, everyday objects—including tables, chairs, windows, mirrors, and baskets. He was interested in not only how these objects related to each other visually, but how our perception and understanding of each informed our experience of them.
As curator Jennifer Gross notes, "Artschwager had come to the realization that art lay as much in the seeing as in the making—that it lay in one's perspective on things, not just in craft. While he would continue to be an object-maker whose attention to detail was 'fanatical,' he was determined that his future efforts would be applied to things to be looked at, to what he identified as the 'useless' realm of art."
In conjunction with Richard Artschwager's retrospective, Nouveau Musée National de Monaco presents #BLPMC, a citywide installation of the artist's blps in the Principality. Artschwager first created his blps—a word coined by the artist and pronounced, "blips"—in the late 1960s. This installation consists of black lozenge-shaped marks meant to inspire focused looking and draw our attention to the places and things around us that often go unnoticed.
In the frame of the exhibition, Mountain Climber (Incomplete) / Passers By / Confrontations, 1992, by John Baldessari from the UBS Art Collection will be on view in the educational space of Villa Paloma, La Table des Matières.
---
---