Histoire d'objet – l'ouvroir (2022-2023)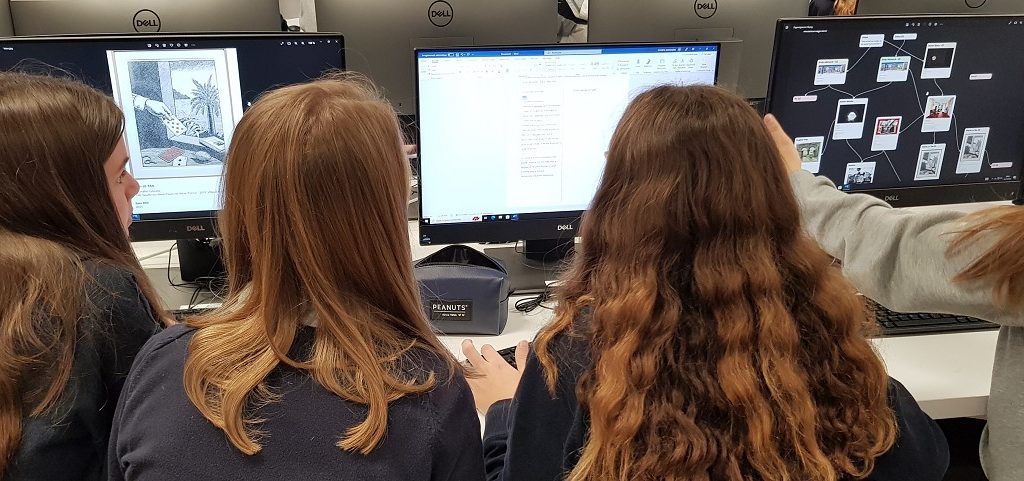 As part of this dual program of mediation and creation in schools, two series of workshops were offered to CM2 and 5ème classes in the Principality, enabling pupils to encounter works from the Museum's collections.
Histoire d'objet (An object story)
During this series of workshops, students told the story of an object from the collections of the Nouveau Musée National de Monaco in the form of an interactive story coded using Scratch software. From handicrafts and stage costumes to contemporary sculptures, students were introduced to a selection of modern and contemporary works. The workshop provided an opportunity to take a closer look, investigate the story and formulate speculative scenarios to piece together the missing elements. The interactive narratives thus produced bring to life these objects from the collection, created by anonymous craftsmen or artists.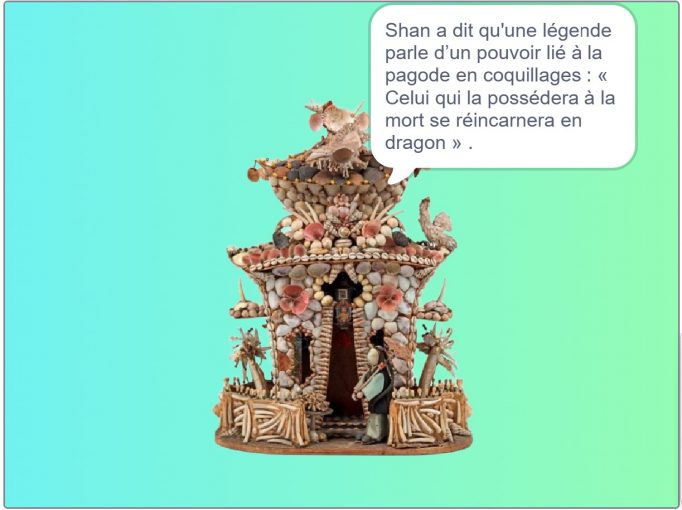 In this example, Charles and Charlotte imagine the story of the Chinese shell pagoda that entered the collections through a bequest to the Principality by Madeleine de Galéa. The students tell us how the work came into being, thanks to its creator Shan, who then sold it to its last owner. The story opens with the legend surrounding the object.
You can find this story and others in the Nouveau Musée Numérique's Scratch game collections by following this link:
https://scratch.mit.edu/users/NMNumerique/studios/ 
---
L'Ouvroir, Musée virtuel textuel (L'Ouvroir, Virtual Textual Museum)
This workshop introduced students to digital art and poetry, based on the concept of the Musée imaginaire popularized by André Malraux in response to the democratization of art photography, which enabled works to be distributed on a large scale. Students wrote and coded their stories, drawing on the writing methods of the Oulipo (Ouvroir de Littérature Potentielle) and the virtual museum L'Ouvroir, created in Second Life by artist Chris Marker. Each class staged a multiple-choice story, with each student proposing a new twist and twists to move the story forward.
Aurélie Lorenzi and Capucine Caboche worked with their pupils on the theme of the tale studied in their respective classes, drawing inspiration from the film Le Tableau and Alice in Wonderland. Together, we wove four tales that allow us to lose ourselves, sometimes literally, in the works of the collection. In this way, readers can wander through the architecture of the paintings, models and sculptures, creating a whole new experience of the Museum.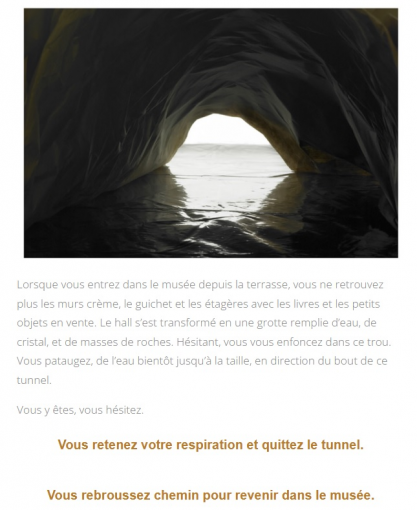 In the screenshot shown here "Sortie au musée", written by the 5èmeC class from collège FANB, readers have two possible choices for continuing their adventure after browsing Adrien Missika's work. One will take them to Nathalie Du Pasquier's Untitled, the other to Yona Friedmann's La Venise Monégasque.
The diagram below visualizes the possible choices and works to be traversed in the 5th C narrative: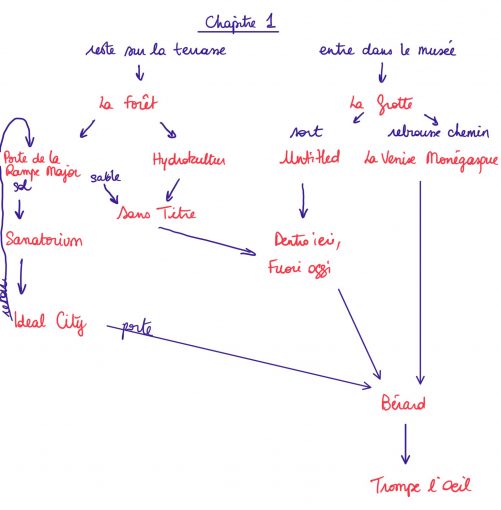 While the four stories have similar beginnings, the journey of each offers new twists and turns:
Le musée imaginaire des élèves de la 5ème A du collège FANB
Le musée imaginaire des élèves de 5ème B du collège FAB
Le musée imaginaire des élèves de 5ème C du collège FANB
Le musée imaginaire des élèves de 5ème E du collège FANB
---
With the support of

---
We would like to extend our warmest thanks to the classes that took part in the workshops:
Histoire d'objet
CM2 from Cours Saint-Maur led by Gaëla Huet
CM2B from école primaire FANB led by Mélanie FABRE
CM2 A from école de Fontvieille led by Vanessa Albert
CM2 B from école de Fontvieille led by Alexandre Baumann
7ème A from école des Révoires led by Maryline Ravel
7ème E from école des Révoires led by Elio Ambrosio
L'Ouvroir
5ème 3 from collège Charles III led by Agathe Poniatowski et Mme Aimerton
5ème A and 5ème C from collège FANB led by Aurélie Lorenzi
5ème B and E from collège FANB led by Capucine Caboche
4ème S from Lycée Technique et Hôtelier led by Sébastien Threhout
5ème S fromLycée Technique et Hôtelier led by Jean-François Rolando