Léna Durr (2022-2023)
Collection de collections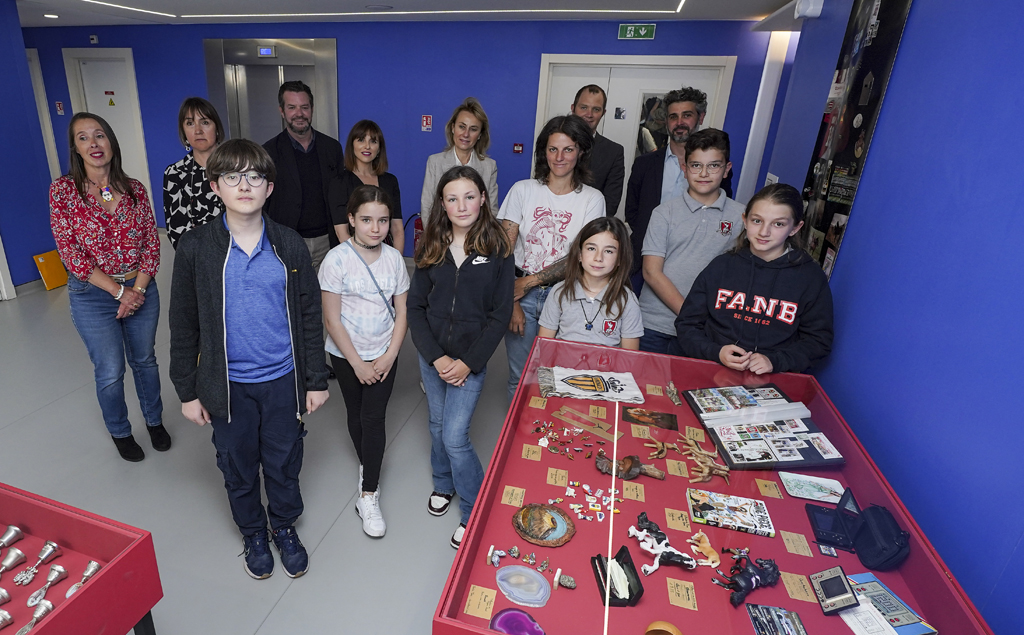 In 2019, the Nouveau Musée National de Monaco initiated an artist residency in the Principality's two middle schools, Charles III and the private Institution François d'Assise-Nicolas Barré. After Oriol Vilanova and Guillaume Aubry, Léna Durr intervened between September 2022 and May 2023 in two classes of 6th grade. The students were invited to reflect on what collecting means and how it can be articulated in an artistic practice.
Some enter the school with a brand new pencil case, others keep the one from last year with, inside, the chewed caps, the tattooed eraser, the pens emptied of the ink that has formed strange stains on the fabric. In their rooms too, many objects have accumulated. Cuddly toys, coins, figurines, postcards, "Panini" or "Pokémon" cards, the grandfather's stamp collection that we swear to continue, the manga saga in fashion, the pins that dad kept for thirty years and that he finally gave up. These collections are built as well as inherited. They are intimate treasures that we review or forget in a drawer. Sometimes they are even made without our knowledge.
Whether they tirelessly collect objects of consumption, nature, our waste or more precious artifacts, some artists also engage in the practice of collecting. This is how Rodin constituted his repertoire of forms thanks to his collection of antiques, how Arman conceived his "accumulations", or how Mark Dion composes today his cabinets of curiosities.
A lover of garage sales, Léna Durr herself began accumulating objects as a child. She piled up dolls, plastic ducks, clothes, statuettes… It is during her studies at the fine arts school that she decided to make her collections the main material of her installations and photographs. In her stagings, she gives to see "the taste of the others", the kitsch without blush nor judgment of value. She exhibits the collection with the gentleness of those who know the ambivalent feelings it brings.
During her residency in Monaco, Léna Durr asked students to photograph what they collected. At Collège François d'Assise-Nicolas Barré, a display case brings together the objects that embody the collection of each of the fourteen students, while another presents a selection of the liturgical bells of the school's catechism teacher. At Charles III College, the information screens display photographs of objects placed in the hands of the students. A collection of collections that can also be found on the Instagram account: @une_collection_dans_les_mains
In partnership with the Direction de l'Education National de la Jeunesse et des Sports with the support of the Princely Government