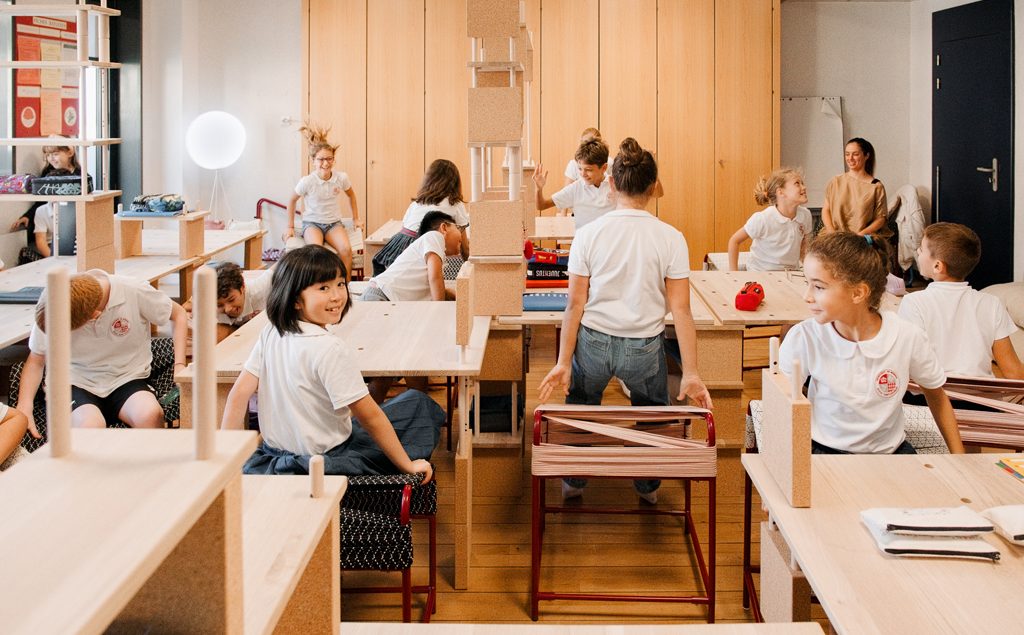 The Nouveau Musée National de Monaco and the Direction de l'Éducation Nationale, de la Jeunesse et des Sports de la Principauté de Monaco, with the support of the Fondation Prince Albert II, invite studio smarin to present a new educational experience entitled "Ecoletopie".
Conceived by studio smarin in 2022 to coincide with the "L'Art d'apprendre, une école des créateurs" exhibition at the Centre Pompidou Metz, the system is being deployed for the first time in a school in Monaco.
"Écoletopie" will take up residence in a classroom at the Saint-Charles school until the winter vacations. During this period, CM1 pupils and their teacher will be experimenting with a total environment, the main objectives of which are :
mobilizing attention
collective intelligence
exercising sensitivity
body awareness
smarin focuses its research on inventing objects that limit their impact on the human body and the ecosystem, with a view to the long term. To this end, each piece is made from pure, untreated materials, carefully selected for their natural qualities.
The classroom is accompanied by a series of conversations and hands-on workshops conducted by smarin with the children to address notions such as the biomechanics of the body, collective coordination to build shared space, materials and their ecological footprint, and also the practice of play as a free experimentation with sensibility.
Ecoletopie. L'Art d'apprendre
Benjamin Laugier, head of publics at the NMNM, and Stéphanie Marin, designer and founder of smarin studio, discuss the "Ecoletopie" project. An educational experiment conducted between September 2023 and February 2024 in a classroom at the Ecole Saint-Charles.