27th European Heritage Days – Sunday September 25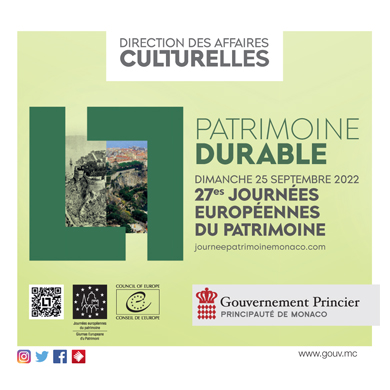 Organized by the Institut du Patrimoine under the aegis of the Direction des Affaires Culturelles, the 27th European Heritage Days are placed this year under the theme of sustainable heritage.
Access to the Villa Paloma and the Villa Sauber will be free of charge from 10 am to 7 pm.
Guided tours at 3pm (no reservation required) of the exhibitions "Christian Bérard, Excentrique Bébé" at the Villa Paloma and "Newton, Riviera" at the Villa Sauber.
Workshops are organized at both Villa Paloma and Villa Sauber:
Villa Paloma
Textile memories
"La collection voyageuse" will be exceptionally presented at the Villa Paloma for a workshop open to all. Come with a piece of clothing or an accessory from your wardrobe. The workshop will propose to cross-reference your stories with the history of the Monte-Carlo Opera.

Workshop for the general public, from 11:00 am to 12:30 pm, reservation required and subject to availability. Information and registration: public@nmnm.mc
Villa Sauber
Traces and memories
NMNM invites artist Eve Pietruschi to design a workshop for and in the gardens of the Villa Sauber. Collect views, sounds, colors, architectural elements, vegetation and compose together a collective memory, in the form of a cabinet of curiosities of the site.

Workshop for the general public, from 10:30 am to 12:30 pm, reservation required and subject to availability. Information and registration: public@nmnm.mc