Eric Baudelaire, Une fleur à la bouche (2021)
In collaboration with the Institut audiovisuel de Monaco
19.03.2024 •
20h
/
Screening
-
Théâtre des Variétés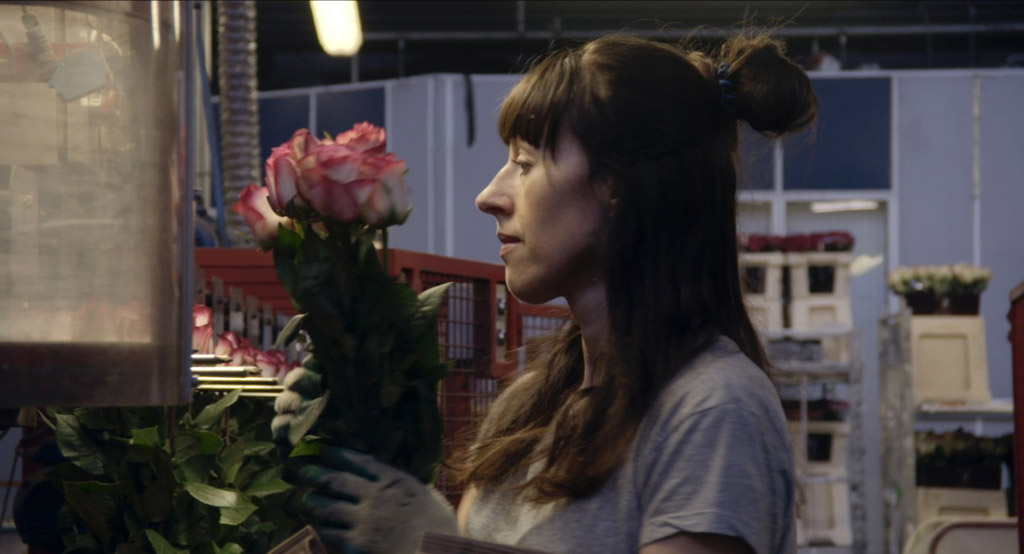 Screening in the presence of the artist
The NMNM and the Institut audiovisuel de Monaco have chosen to collaborate by programming creations of artists whose practice stands in between cinema and contemporary art : films that are singular by their from, their narrative system, but also their production and diffusion mode. For this season, the Institut audiovisuel de Monaco's Tout l'art du cinéma programme presents Eric Baudelaire's , Une fleur à la bouche (2021).
How to live the time that remains? Une fleur à la bouche is a hybrid feature, a diptych that's part documentary (shot in the world's biggest flower market) and part fiction, about a man suffering from an incurable disease, adapted from a play by Luigi Pirandello.
Une fleur à la bouche
France, South Korea, Germany, 2021, color, 67 min.
Directed by Éric Baudelaire. Screenplay: Anne-Louise Trividic, Éric Baudelaire after Luigi Pirandello's La Fleur à la bouche. Image: Claire Mathon. Sound: Éric Lesachet, Philippe Welsh. Editing: Claire Atherton. Art direction: Roy Genty. Costumes: Edgar Fichet. Production: Les films du Worso, Poulet-Malassis Films, JeonJu International Film Festival, Flaneur Films. Starring : Oxmo Puccino (the man with the flower), Dali Benssalah (the customer), Sébastien Albert (the bartender), Flavien Soyer (the mandolinist), Laure Devenelle (the saleswoman).
Une fleur à la bouche complexifies the relationship between the literal (documentary) and the metaphorical (fiction). Pirandello's flower metaphorized a lethal disease; for twenty minutes, like the great materialist that he is, Baudelaire takes the "flower" in a wildly literal way and describes the world's biggest flower market, in Holland. The commercialization of the flower as a standardized product transforms it into an emblem of a toxic civilization, which withers (sic) everything it fetishizes. The real flower becomes a metaphor, an allegory for industrial disease – our collective disease. So what can cinema do? In Pirandello's words, it can reinstill in us "a taste for life". On July 4, 2022, a few weeks before his suicide, Jean-Luc Godard underlined this line from Pirandello's Henry IV: "this pleasure of a new kind: that of living – lucidly".
---
Born in Salt Lake City [1973], trained in the social sciences at Brown University (Providence), then at King's College (London), Éric Baudelaire is a visual artist and filmmaker, developing a body of work of great political and formal radicalism. His main figurative project concerns the accursed, in the sense of the forgotten, pariahs, defeated, extremists, beings excluded from the general economy (world economy, psychic economy). A series of pieces deals with geopolitical cursed: the unrecognized states of the Caucasus, in particular Abkhazia. It combines a book, États imaginés (2005), a film, Letter to Max (2014), and an exhibition, The Secession Sessions(2015): all of which allow us to reflect on the notions of statelessness, nationalism and independence. Another case engages the cursed of history, starting with filmmaker and activist Masao Adachi, whose work has never ceased to measure up to injustice and the indefensible, imprisoned for almost three decades. Baudelaire transposes the initiatives taken by Adachi's masterpiece A.K.A. Serial Killer (1969) – telling the story of a young murderer without words and without showing him, exclusively through the landscapes he has traveled – to his film Also Known As Jihadi (2017). The description of the territories crossed by an Islamist who left to fight in Syria is combined with the documents collected on him by the police, to question the very principle of political action. Infigurable and a blind spot, the cursed becomes a revelation. Be what you want to be: to consider a subject requires us to renew the forms of work under the auspices of cooperation. Baudelaire's documentary on Adachi, L'Anabase de May et Fusako Shigenobu, Masao Adachi et 27 années sans images (2011), is followed by a fiction film made with Adachi, The Ugly One (2013). The political imperative to turn motifs into co-creators culminates in Un film dramatique (2019), which describes the making of a film with schoolchildren in Saint-Denis, earning the entire co-signing team the Prix Marcel Duchamp. Une fleur à la bouche (2021) opens onto another experience of limits: confronting the inconceivable of death.
Nicole Brenez
---
Théâtre des Variétés, 1 bd. Albert Ier
Tickets on sale on the evening of the screening.
Price: €6
Students and under-21s: €3
Parking : Condamine
Bus : Place d'Armes ou Stade nautique