Steve McQueen, Twelve Years a Slave, 2014
In collaboration with the Institut audiovisuel de Monaco
22.03.2022 •
20H00
/
Screening
-
Théâtre des Variétés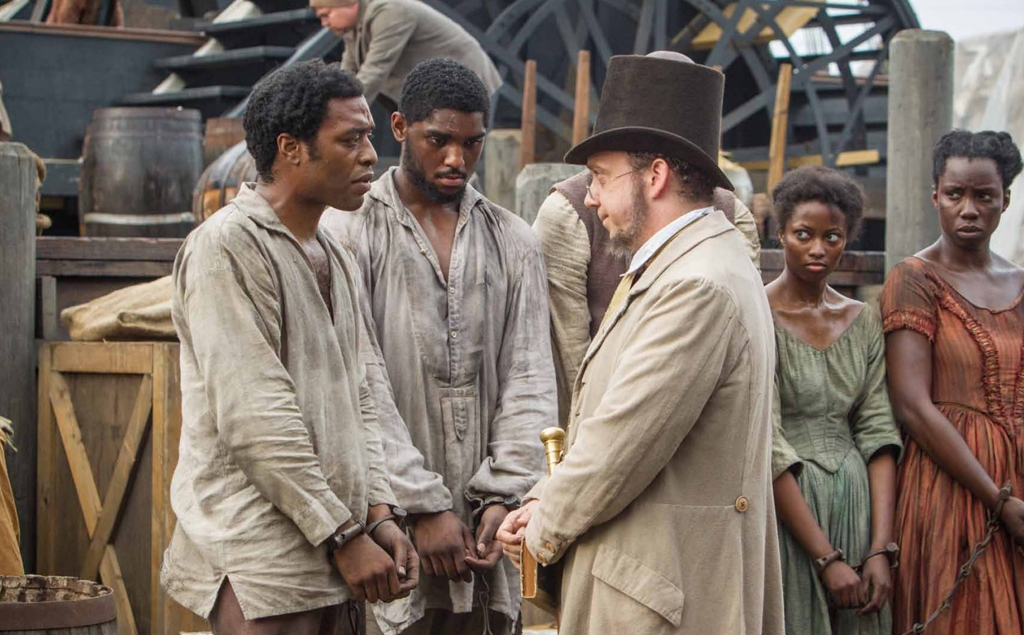 The NMNM and the Institut audiovisuel de Monaco have chosen to collaborate by programming creations of artists whose practice stands in between cinema and contemporary art : films that are singular by their from, their narrative system, but also their production and diffusion mode. For this season, the Institut audiovisuel de Monaco's Tout l'art du cinéma programme presents Steve McQueen's Twelve Years a Slave, 2014, in correspondance with the exhibition TREMBLINGS. Recent acquisitions of the Nouveau Musée National de Monaco presented at Villa Paloma until 15 May 2022.
Released in 2014, Twelve Years a Slave is an adaptation of the autobiography of Solomon Nothup, an African-American man kidnapped and sold into slavery on a Louisiana plantation in the 1840s. The film shows slavery as an alienation, that of a man's body deprived of freedom and systematically humiliated by an owner of unlimited cruelty.
The choice of this Hollywood production for this label may seem unusual, but the film is nonetheless a singular cinematographic object. True to his approach as a visual artist, Steve McQueen, whose work is simultaneously presented at the Villa Paloma in an exhibition of the museum's collections dealing with the notions of identity and multiculturalism, proposes a relationship to the body and to time that is rare to find in so-called popular film productions. The sequence shots, the close-ups, the repetition arouse anger, resignation, empathy, to finally remind us that all freedom is never acquired.
Steve McQueen, artist and director, was born in London in 1969. Whether in his feature films, audiovisual installations or sculptures, his approach always revolves around universal and political themes such as war, immigration or slavery. Her career path attests to the transversality of her practice, and indeed the audiences she addresses.
He was awarded the Turner Prize in 1999, Caméra d'Or at the Cannes Film Festival for his first feature film Hunger in 2008 and represented Great Britain at the Venice Biennale in 2009.
Twelve Years a Slave is his third feature film; it was awarded the Academy Award for Best Picture in 2014 and numerous other awards.
---
Opening projection
L'instantané « Monaco en films », from the Institut audiovisuel de Monaco's collection.
Twelve Years a Slave
Steve McQueen
États-Unis, 2014, couleur, 133 min., vostf.
Directed by Steve McQueen. Screenplay : John Ridley, based on Twelve Years a Slave by Solomon Northup. Image : Sean Bobbitt. Original music : Hans Zimmer. Decors : Adam Stockhausen. Costumes : Patricia Norris. Editing : Joe Walker. Production : River Road Entertainment, Regency Enterprises, Plan B Entertainment, New Regency Pictures, Film4 (London). Cast: Chiwetel Ejiofor (Solomon Northup), Michael Fassbender (Edwin Epps), Benedict Cumberbatch (Ford), Paul Dano (Tibeats), Garret Dillahunt (Armsby), Paul Giamatti (Freeman), Scoot McNairy (Brown), Lupita Nyong'o (Patsey), Adepero Oduye (Eliza), Sarah Paulson (Mistress Epps), Brad Pitt (Bass).
---
Théâtre des Variétés, 1 bd. Albert Ier

Tickets on sale on site on the night of the projection.
Admission : 6 €
Students and people under 21 years old : 3 €
Parking : Condamine
Bus : Place d'Armes or Stade nautique