Latifa Echakhch, le jardin mécanique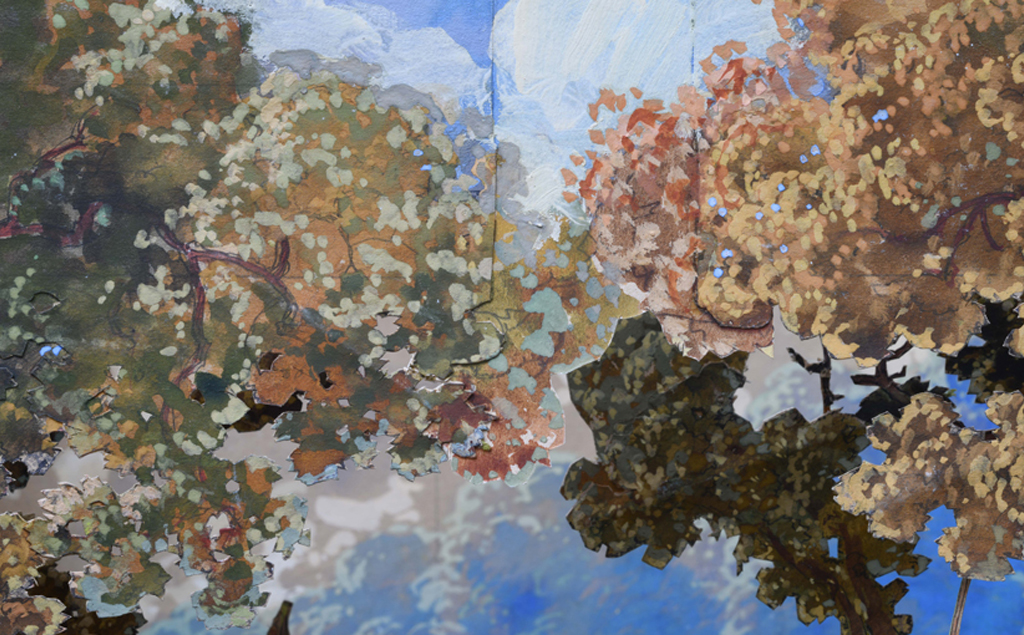 Latifa Echakhch presents a new installation conceived specifically for the Nouveau Musée National de Monaco – Villa Sauber. The exhibition combines references to the development of modern Monte-Carlo – such as the construction of the Opéra Garnier and the luxuriant gardens of exotic plants – with the artists' own impressions and childhood memories.
---
Latifa Echakhch was born in El Khnansa, Morocco, in 1974. Shortly after, her family moved to Aix-les-Bains where her father worked for the Casino Grand Cercle, with its prestigious theatre. Important aspects of her childhood were the natural landscapes that inspired some of Lamartine's most beautiful poems and the discovery of the backstage area of the theatre and its machinery, devised and installed in the early 20th century and similar in many ways to that of the Monte Carlo Opera.
Invited by the NMNM to create new works for her exhibition, Latifa Echakhch selected numerous details from the paper set models designed by Alphonse Visconti, the decorator of the Opéra de Monte-Carlo from 1903 to 1924, which she then produced as stage sets. In the exhibition space, she unfolds a landscape as artificial as it is fantasized, composed of fragments of scenery for productions such as Pompeii, Rigoletto, or Masques and Bergamasques, which offer a distant echo to Verlaine's Fêtes Galantes or to the Méditations Poétiques composed on the shores of Lac du Bourget.
The landscape thus recomposed, suspended from the threads of an imaginary theatre machinery, is intimately linked to the tradition of the mechanical automata manufactured in the Parisian workshops in the 19th century. These "salon" toys, whose subjects reflected French colonial history and a new taste for exoticism, inspired a series of videos presented within the mechanical garden created by Latifa Echakhch.
Inspired by the setting of this emblematic residence of the Belle Époque and its rose garden, it is in the renewal of the Romantic landscape tradition and its associated topos – the contemplation of ruins – that Latifa Echakhch has conceived this last exhibition at Villa Sauber before it shuts for works.
Winner of the Prix Marcel Duchamp in 2013 and the Zurich Art Prize in 2015, Latifa Echakhch is a graduate of the École nationale supérieure d'arts de Cergy-Pontoise and the École nationale des beaux-arts de Lyon. She lives in Fully in Switzerland and is represented by the galleries Kamel Mennour in Paris, Kaufmann-Repetto in Milan, Eva Presenhuber in Zurich and Dvir in Tel Aviv.
Her works has recently been presented at the 15th Istanbul Biennial (2017), Power Plant Gallery, Toronto (2017), Haus Konstruktiv, Zurich (2016), Lentos Kunstmuseum, Linz (2015), Swiss Institute, New York (2015), Centre Pompidou, Paris (2014 – 2015), Palazzo Grassi, Venise (2014), Musée d'art contemporain de Lyon (2013) and Hammer Museum, Los Angeles (2013).
---
Curator : Célia Bernasconi
---