Oscar Murillo, meet me! Mr. Superman (2013-2015)
Videoroom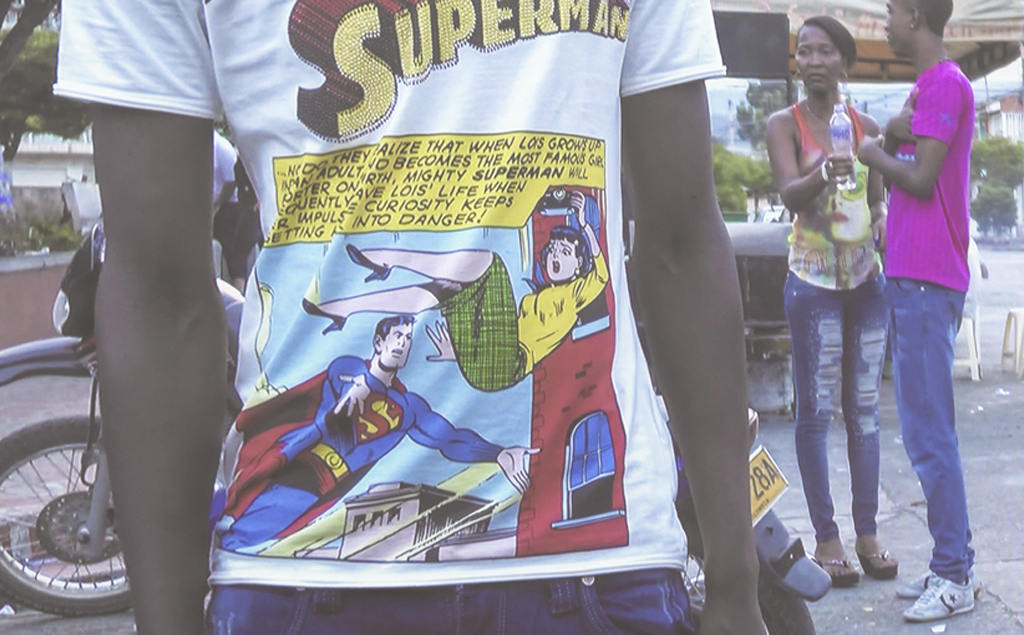 Oscar Murillo's paintings, videos, and performances are tied to a notion of community stemming from the artist's cross-cultural ties to London, where he currently lives and works, and Colombia, where he was born in 1986.
The video meet me! Mr. Superman depicts a street scene in Murillo's hometown of La Paila, Colombia, in which people are seen chatting, drinking, and dancing to live music. Filmed by the artist on New Year's Day, its footage shifts between documentary and experimental styles, using both wide-angle and detail shots that, at times, abstract the figures' bodies into a chaotic arrangement of imagery, colour, and movement. Murillo employs sound as a major, integral component of the work: its soundtrack fades between the original audio and a commissioned score, interweaving loud, jarring street noise with tempered bell-like harmonies.
The title of the work references a shot in which one of the revelers wears a Superman t-shirt. "The superhero is such a Western symbolic ideal of the perfect kind of human being," Murillo explains. "I'm not a Western subject, so I'm saying meet me Mr. Superman. I'm meeting you, I'm giving you my context—this is where I'm from. This is what I do." Shot from a point-of-view perspective, Murillo acts as a mediator between the depicted scene and the viewer. Therefore, whilst he is attending the festivities much like the people he depicts, it is through the act of immersing the viewer in the scene that Murillo highlights the dualities that pervade his oeuvre. "It becomes a nostalgic reference point, because my kind of non-western identity has begun to erode since I left that culture."
---
Murillo earned his B.F.A. in 2007 from the University of Westminster, London, followed by his M.F.A. in 2012 from the Royal College of Art, London.
As part of Performa 15 in New York earlier this year, Murillo presented Lucky dip, a series of performances and installations that took place over the course of one week at the Alexander Hamilton U.S. Custom House, an important historical site in downtown Manhattan. An upcoming solo exhibition is planned for the spring of 2016 at the Yarat Contemporary Art Centre in Baku, Azerbaijan. Also in 2016, the artist will participate in the 20th Biennale of Sydney: The future is already here—it's just not evenly distributed.
Murillo's works and projects have been the subject of solo exhibitions at prominent institutions worldwide. Most recently, presentations were held in 2015 at the Museo de Arte de la Universidad Nacional de Colombia, Bogotá; Centro Cultural Daoíz y Velarde, Madrid (part of ArcoColombia 2015); and Artpace, San Antonio, Texas. In 2014, Oscar Murillo: An average work rate with a failed goal showcased new paintings, sculptures, and video works at 40mcube in Rennes, France, organized as part of the 4th Les Ateliers de Rennes – Biennale d'art contemporain. Also in 2014 a body of new work was presented at The Mistake Room in Los Angeles on the occasion of the venue's inaugural exhibition. In 2013, the South London Gallery hosted the artist's first major solo show in the United Kingdom. In 2012, he created new paintings on site during a five-week summer residency at the Rubell Family Collection in Miami, which were shown later that year marking his first solo exhibition in the United States. Other venues that have exhibited his works and projects include the Showroom MAMA, Rotterdam (2013) and the Serpentine Gallery, London (2012).
In 2014, Murillo participated in numerous international group exhibitions, including The Forever Now: Contemporary Painting in an Atemporal World, The Museum of Modern Art, New York; 1st International Biennial of Contemporary Art of Cartagena de Indias, Cartagena, Colombia; RE: Painted | 'Painting' from the collection, Stedelijk Museum voor Actuele Kunst (S.M.A.K.), Ghent; Fútbol: The Beautiful Game, Los Angeles County Museum of Art; and Don't You Know Who I Am? Art after Identity Politics, Museum van Hedendaagse Kunst Antwerpen, Antwerp.
For Murillo's ongoing long-term project Frequencies, created in collaboration with members of his family and political scientist Clara Dublanc, canvases are temporarily affixed to classroom desks in selected schools across the globe, encouraging students aged ten to sixteen to create any kind of mark making—drawing, writing, doodling. He recently debuted the Frequencies project with a large-scale installation of canvases as part of the56th Venice Biennale: All the World's Futures in 2015. In conjunction, David Zwirner Books will publish a comprehensive book, standing as a directory of the project to date, which includes reproductions of canvases and photographs of schools and students.
---
This videoprojection has been curated by Suad Garaveya-Maleki and Cristiano Raimondi