Monaco-Alexandria, The great detour
World-Capitals and Cosmopolitan Surrealism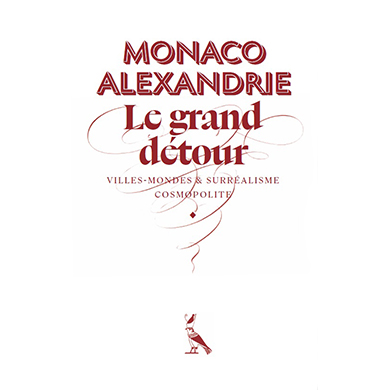 This catalogue is published on the occasion of the eponymous exhibition at the New National Museum of Monaco – Villa Sauber, from December 17, 2021 to May 2, 2022.
Monaco-Alexandria. The Great Detour presents itself first and foremost as a definitive departure from the spectrum of nationalist and Eurocentric art history.
Monaco and Alexandria, two cosmopolis with eloquent and yet little-known relations, woven in the heart of the 20th century: ballets and (post)orientalist shows, southern surrealism, flora and fauna, feminist eroticism, urban development and nightlife… Two world-capitals, marked by the imprint of dreams and tourist mythologies as by that of the avant-garde in exile. The writers, poets, painters, decorators and philosophers presented here are the free agents, minority and nomadic forces of Surrealism. They embody a transmediterranean and cross-border world, beyond the rise of nationalisms and fascisms.
With the works of: Hamed Abdalla, Zeinab Abdel Hamid, Clea Badaro, George Bahgoury, Raoul Barba, Ezekiel Baroukh, René Billotte, Anna Boghiguian, Bona, Nabil Boutros, Brassaï, Henri Cartier-Bresson, Michele Ciacciofera, Giorgio de Chirico, Eric de Nemes, Angelo de Riz, Valentine de Saint-Point, Marcel Duchamp, Raoul Dufy, Louis-Emile Durandelle, François Z. Eberl, Inji Efflatoun, J. Enrietti, Leonor Fini, Yona Friedman, Ali Hegazy, Georges Henein, Pierre Jahan, Abdul Kader El-Janabi, Marc Janson, Fouad Kamel, Ida Kar, Germaine Krull, Jacques-Henri Lartigue, Stanislao Lepri, Louis Ernest Lessieux, André Lothe, Antoine Malliarakis dit Mayo, Joyce Mansour, Ibrahim Massouda, Mohamed Naghi, Marguerite Nakhla, Jean Painlevé, Samir Rafi, Khadiga Riaz, Yasser Rustum, Lothar Schreyer, Wael Shawky, Salah Taher, Virginia Tentindo, Kees Van Dongen, Amédée Vignola, Alphonse Visconti, Adham Wanly, Seif Wanly, Ramses Younan…
Publication as well as educational and public programme developed with the participation of Community Jameel
And the support of The Alexis and Anne-Marie Habib Foundation
---
Curated by Morad Montazami and Madeleine de Colnet for Zamân Books & Curating
Scientific Advisor : Francesca Rondinelli
---
Available at the museum, for orders : bookshop@nmnm.mc