Monacopolis
Urban Planning and Urbanisation in Monaco, Projects and Constructions, 1858-2012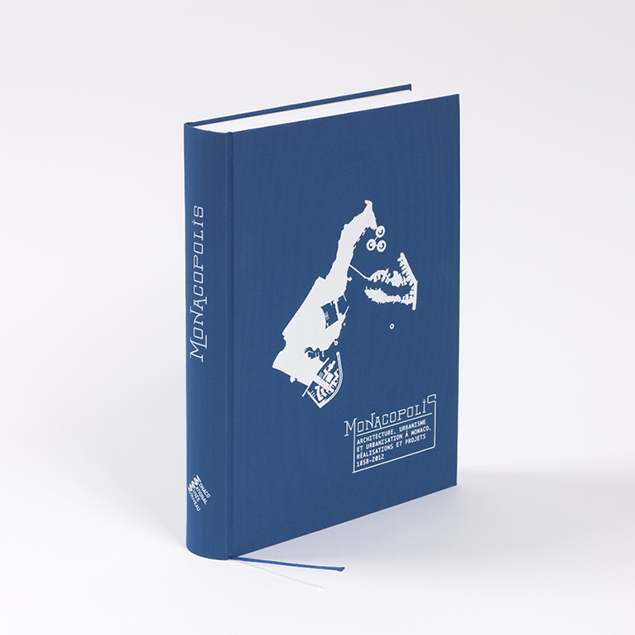 Produced after the exhibition shown in 2013 at the Nouveau Musée National de Monaco, The book MONACOPOLIS, Architecture, Urban Planning and Urbanisation in Monaco, Projects and Constructions, 1858-2012 is both an art book and a reference for the history of the Principality's architecture and city planning.
It took the NMNM team and a specially formed network of specialists two years to bring together the paintings, drawings, maquettes, photographs, sculptures and films—documents located in the different resource of public and private centres in Monaco (Archives du Palais, Société des Bains de Mer, Monaco Media centre, Audiovisual Archives, promoters, architects and collectors) and in Paris (National Museum of Modern Art, National Archives, Cité de l'Architecture) and in architects' collections in France and abroad—and process the archives. Made up of outstanding illustrative material of more than 800 images, this book, in an inventive and refined layout, mingles past, real and virtual, and periods which overlap, to recreate the portrait of a country with such a special history.
Thirteen authors (including Jean-Lucien Bonillo, Jacqueline Carpine-Lancre, Andrea Folli, Thomas Fouilleron, Frédéric Kappler, Gisella Merello, Simon Texier, Bernard Toulier, Georges Vigarello,…) have kindly undertaken the task of shedding some initial light on this novel documentary corpus. They help us to understand how the City-State has developed, its choices, the urban intentions, and the works produced… all so many thoughts which plunge us into a decidedly contemporary reflection.
The designers Åbäke and Martino Gamper, associated with this project for the exhibition sets and all the graphic documents linked with them, offer us their concept :
The design for this exhibition is a matter of scale. Glass and aluminium, elements of the architectural grammar are present in all the spaces of both Villa Sauber and Villa Paloma. Just like in the modern(ist) city or in Tati's Playtime, the reflections in the glass juxtapose a building with its neighbour, old or in construction. As for the visual communication of the exhibition, it proposes to extend the show within Monaco with a map, similar to a tourist map which includes both the ghosts of destroyed buildings and unrealized utopian projects. Instead of a unique poster, the visual identity takes advantage of the iconographic collection to offer different images of buildings for the flyers, posters, banners, adverts, sometimes site specifically.
---
Curator : Nathalie Rosticher Giordano
Design : Martino Gamper, Maki Suzuki / åbäke, London
---
Available at the museum, for orders : bookshop@nmnm.mc
---