Tom Wesselmann, La Promesse du Bonheur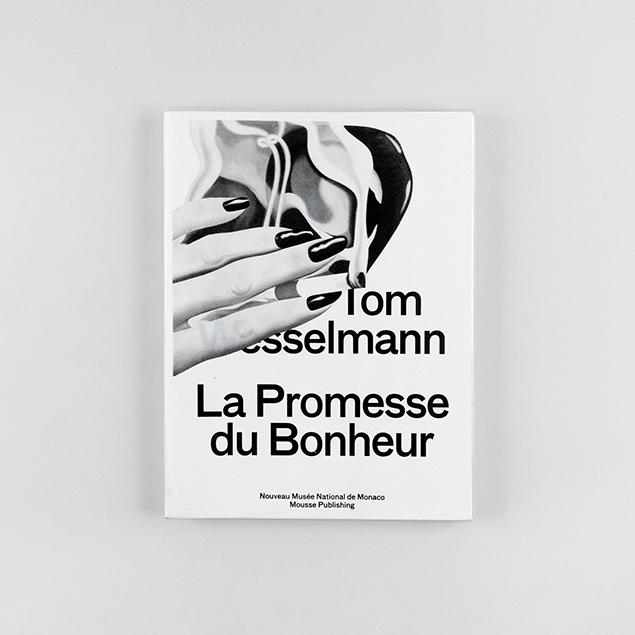 Published on the occasion of the exhibition Tom Wesselmann: La Promesse du Bonheur, curated by Chris Sharp with the scientific coordination of Cristiano Raimondi, held at Villa Paloma in Monaco June 29, 2018, through January 6, 2019, this catalogue is a critical overview of a key American Pop artist and an important opportunity to analyze specific aspects of his work: Victorian and post-Victorian sexuality, female agency, postwar economic abundance, beauty, the erotics of anticipation, the politics of the gaze, and strategies of indeterminacy. Every aspect of the book's design, including its more than 170 color illustrations, is conceived to reflect on the artist's haptic, indexical painterly approach and oversize scale system.
Through Steven Marcus's concept of "pornotopia" and the perspective of economy and abundance in postwar American society, the critical essay by Chris Sharp examines Wesselmann's depictions of the sexual, developed formally in the works by means of hyperbole, hierarchies of elements, elision, and omission. The second critical essay by Sabrina Tarasoff leverages Julian Wasser's iconic 1963 photograph Duchamp Playing Chess with a Nude, the 1969 "breast action" during one of Theodor W. Adorno's classes, and more to deliberate the intentional in-betweenness in Wesselmann's work, "interest" as a category preceding definition, semantic versus formal dimensions, and midcentury sensibilities regarding masculinity and female empowerment.
---
This exhibition receives the support of The Estate of Tom Wesselmann.
Curator: Chris Sharp
Scientific coordination: Cristiano Raimondi
---
Available at the museum, for orders : bookshop@nmnm.mc
---