Le studio, designed by Quetzal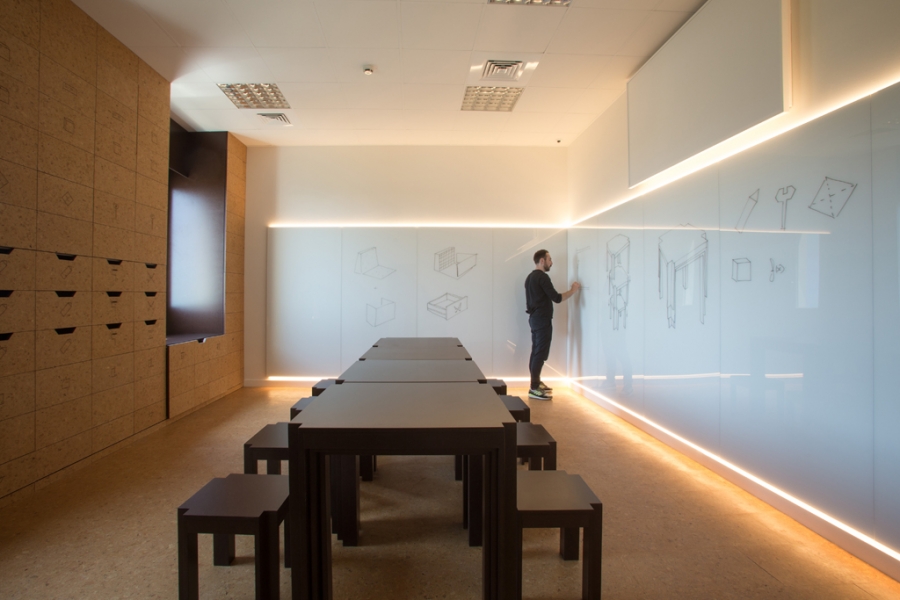 Le Studio is the educational space at Villa Paloma, conceived by the Paris-based design studio Quetzal, created by Louise Naegelen, Adrien Gadet and Benjamin Lina.
The space at Villa Paloma – one of the two venues of the Museum together with Villa Sauber – is designed to welcome the young visitors during school months, as well as during the holidays, and to become the prefect space for experimentation and learning.
The space is inspired by the archaeologic site and planned as a place for research. The whole project is developed around two elements: cork and glass.
The cork covers the floor and one of the perimetric walls which is also a storage thanks to drawers, and therefore the technical part of the room.
Each drawer is enriched by symbols, like hieroglyphs, to help organizing the space.
The glass, which can also be used as a board for drawing, gives perspective to the whole environment thanks to its reflections and the lights surrounding it.
Finally, the wooden custom-made, modular and stackable furniture can be arranged in different ways within the space, according to the needs.
Besides being fully equipped with traditional media to experiment on art, with tools to paint, sculpt and draw, Le Studio is also be equipped with state of the art technological media. Screens and overhead projectors, CNC machines, 3D softwares: the NMNM starts a new way in its approach to the educational programmes, using new technologies applied to contemporary creativity.
Le Studio was inaugurated in July 2019.
Quetzal is a design studio created by Louise Naegelen, Adrien Gadet and Benjamin Lina. Since 2015, they have worked on projects ranging from the creation of furniture and objects to the design of architectural spaces. This collaboration has been marked by an ideal of creation oriented on the detail and function, strongly inspired by nature. Their creation process is based on the materials' self-sufficiency and the expression of their essence, therefore allowing the raw emotion of the matter and the pure line. The studio's ambition is to think the space and the object as an entity in which the user is always placed at the center. In 2016, they were received the Grand Prix Design Parade Toulon Van Cleef & Arpels which allowed them to start many projects and collaborations as well as the organization of several workshops at Villa Noailles (Hyères, France) and Centre George Pompidou (France). They have also collaborated with art collector Silvia Fiorucci on the 5Rooms project consisting in the creation of an artists' residency in Grasse in 2018.