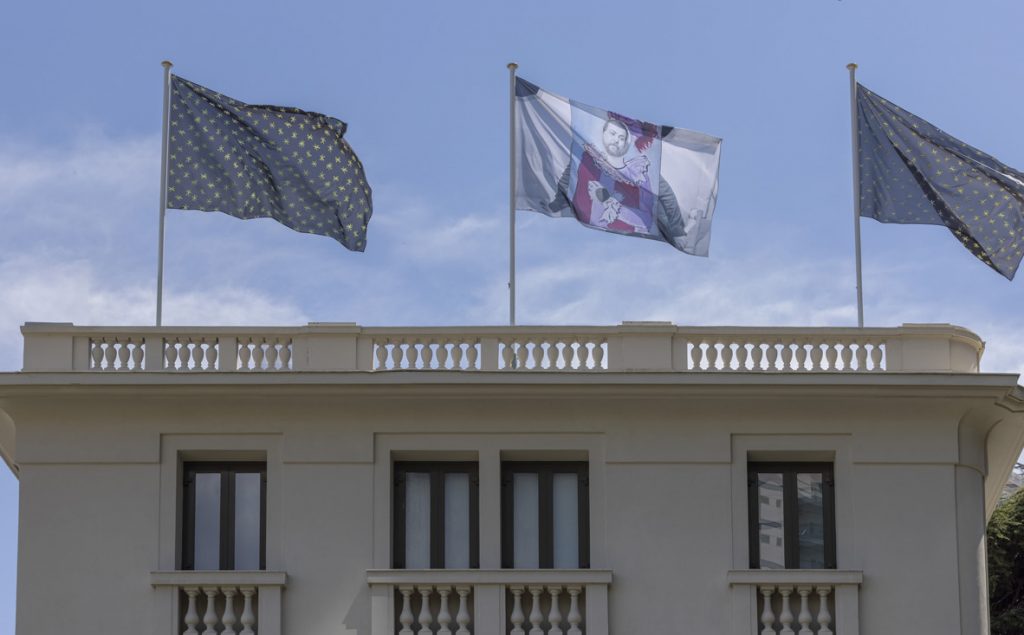 ---
In 2011, on the occasion of the exhibition OCEANOMANIA: Souvenirs of Mysterious Seas – a project by Mark Dion – David Brooks made a proposition for the flags on the roof of Villa Paloma.
Ten years later, the NMNM reactivated the project by inviting artists – Shimabuku then Pierre Bismuth – to produce new proposals in the frame of a biannual program called 8 flags.
In correspondence with the exhibition "Christian Bérard, Excentrique Bébé", the eight masts at the Villa Paloma host A different person, 2022 by Nick Mauss.
Christian Bérard's Peinture pour un bal costumé is an improvised hybrid, a painting-as-costume devised to be temporarily "worn" by the guests of a fleeting festivity. In this series of flags, Nick Mauss insinuates Bérard himself into his painted travesty, by way of a montage using Roger Viollet's photographic portrait of the artist. Emblazoned with Bérard's double likeness, these flags alternate with black standards whose stylized patterning of phosphorescent stars stand out against the night sky they imitate.
---
In February 2021, and for his exhibition The 165-metre Mermaid and Other Stories, Shimabuku, true to his inclination to reconnect the distant and rethink the notion of alterity, imagined and ensemble of flags called Moon and Potato, a comparison as formal as it is humorous that he defines as follows: "When I look at the moon, I think of a potato. When I look at a potato, I think of the moon."
In November 2021, in dialogue with the exhibition Tremblings recent acquisitions by the Nouveau Musée National de Monaco, Pierre Bismuth imagined Abstractions sur le thème des nations, a series of flags based on political, economic, or social data, present or past, inspired by statistics on international trade.
---
Curator: Benjamin Laugier
---
---