Ettore Spalletti, Ombre d'azur, transparence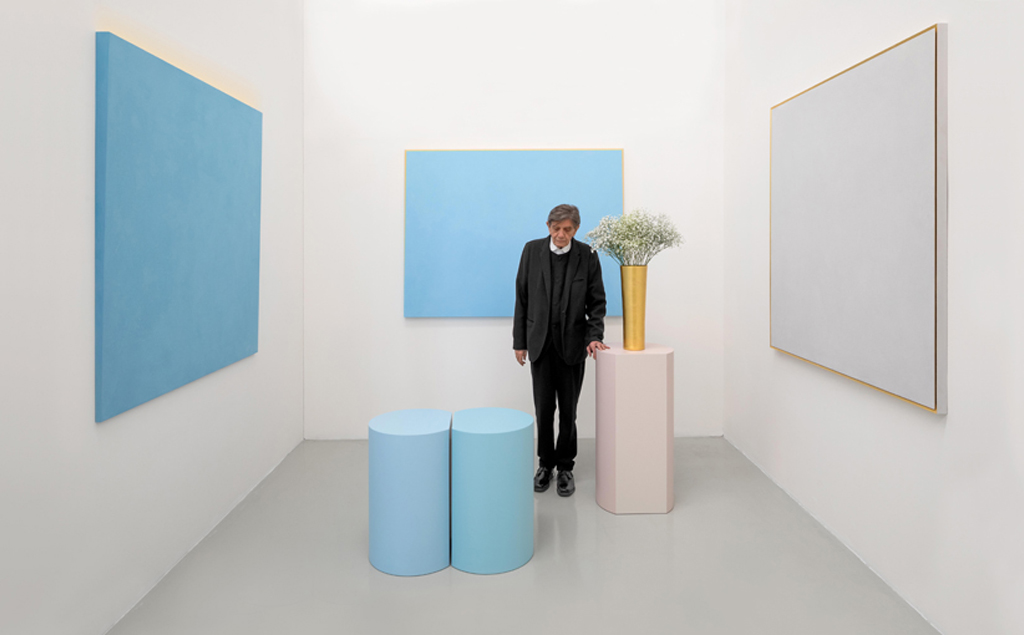 The Nouveau Musée National de Monaco presents a new project by Ettore Spalletti (b. Cappelle sul Tavo, Pescara, 1940 – Spoltore, Pescara, 2019), curated by Cristiano Raimondi and specially designed for the premises of the Villa Paloma. Thirty works are on display in seven environments on the three floors of the villa.The spaces conceived and created by the artist show all aspects of his work, though not in chronological order, with significant new works alongside historical ones, both from his studio and from important private collections.
In the early 1970s, Spalletti started working towards a dialogue between classical and contemporary art, creating paintings and sculptures that involved an in-depth study of colour and its interaction with space. In the concept behind the settings, mainly with three-dimensional monochrome works, the pink and blue landscapes of Abruzzo – the region on the Adriatic where the artist has always lived and worked – are sublimated and given an aura of timelessness by the materials he uses.
Spalletti's art is the outcome of a highly original, slow, and extremely methodical technique, and it has often been referred to as meditative. Over a period lasting weeks, he applies dozens of layers of colour onto wooden structures, with each layer being left to dry and then abraded to bring out the pigments in all their hues and brightness. The result of this meticulous process is a sort of skin that protects the work, while also creating a connection with the visitor, diffusing shades of colour and light.The artist's studio is the starting point for the construction of the display, in which, like the conductor of an orchestra, he rearranges the architecture where he plans his work. He does so by creating itineraries of colours and volumes that become projections of his spiritual dimension and of the landscape that he has had around him ever since he was born. By doing so, he offers us an atmosphere of universal spirituality and restraint.
---
The Nouveau Musée National de Monaco presents this new project as part of an exhibition programme devoted to artists who, like Thomas Schutte, Richard Artschwager, Erik Bulatov, Mike Nelson, and Alfredo Volpi, have work on their own autonomous research, independent of artistic movements or currents, with the aim of bringing about a fusion of the arts and a real experience of space.
Ettore Spalletti lives and work in Cappelle sul Tavo (Pescara). Over the past forty years his works have been shown at Documenta in Kassel (1982, 1992), at the Venice Biennale (1982, 1993, 1995, 1997) and in solo exhibitions in Essen (Museum Folkwang, 1982), Ghent (Museum Van Hedendaagse Kunst, 1983), Rennes (Halles d'Art Contemporain, 1988), Frankfurt (Portikus, 1989), Munich (Kunstverein, 1989), Amsterdam (De Appel, 1989), Paris (Musée d'Art Moderne de the Ville de Paris, 1991), New York (Guggenheim Museum, 1993), Antwerp (Museum van Hedendaagse Kunst, 1995), Strasbourg (Musée d'Art Moderne et Contemporain, 1998), Naples (Museo di Capodimonte, 1999), Madrid (Fundación La Caixa, 2000), Leeds (Henry Moore Foundation, 2005), Rome (Académie de France, Villa Medici, 2006; Galleria Nazionale d'Arte Moderna, 2010), Kleve (Museum Kurhaus Kleve, 2009), Venice (Palazzo Cini, 2015). In 2014 the most complete retrospective of his work, entitled Un giorno così bianco, così bianco, was shown in a museum circuit consisting of MAXXI in Rome, GAM in Turin, and Museo Madre in Naples. He has created two permanent installations of particular emotional impact: the Salle des dèparts, for the Hôpital Poincaré de Garches, Paris, in 1996, and the Cappella di Villa Serena in Città Sant'Angelo, Pescara, in 2016.
---
The catalogue, published by Mousse, contains a new conversation between the artist and Hans Ulrich Obrist, critical essays by Cristiano Raimondi and Valerie De Costa, and re-edited essays by Tommaso Trini, Daniel Soutif, Daniela Lancioni, Bruno Corà and others…

With the contribution of the Nouveau Musée National de Monaco, Monte Carlo, a documentary (1h 30min, 4k, subtitles in French and English) has been made to accompany the exhibition. The video, which is devoted to Ettore Spalletti, written and directed by Alessandra Galletta, and produced by the independent Milanese production company LAGALLA23 Productions, will be given its world premiere screening.The tale it tells is of the artist's everyday world – methodical and contemplative – of the places where he lives – Pescara, his home in Spoltore, his studio in Cappelle sul Tavo, the abbeys and the mountains, the sea and the sky of Abruzzo – and of his public image at numerous solo exhibitions in the world's leading galleries and museums. Images and long, in-depth interviews by Alessandra Galletta, held between 2016 and 2018, tell his story and a number of different voices, including those of the art historian Germano Celant, the Jesuit father Andrea Dall'Asta, Andrew Leslie Heyward, director of the Marian Goodman Gallery, and the gallery owners Lia Rumma and his niece Benedetta Spalletti, build up a personal and artistic portrait of the artist.After the première in Monaco, the documentary will be shown at European festivals, before going onto the television distribution circuit in various countries.
---
Curator: Cristiano Raimondi
---
---