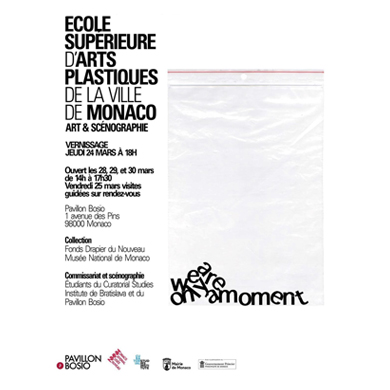 The exhibition project of the collection of art and popular traditions objects of the Nouveau Musée National de Monaco is the result of a collaboration between the curatorial students of the Curatorial Studies Institute of Bratislava and the students of the Pavillon Bosio, École Supérieure d'Arts Plastiques de la Ville de Monaco.
The exhibition We Are Only a Moment tells the story of a little-known donor to the museum – Henri Drapier, who died at the end of the 1940s and left his collection of objects. Beyond its museographic value, this collection bears witness to the memories, experiences and aspirations of its collector. The course of the exhibition is the result of questions, shared by the students, about time, obsessions and also about museum conservation: to what extent can a museum restore a life? Is it condemned to distort it?
---
Curators of the exhibition: Ivana Brandysová, Dominika Bolgácová, Michaela Vánová, Tereza Tomešová.
Under the supervision of Juraj Carný, Professor at the Curatorial Studies Institute

Exhibition designt : Gabriel-Noé Rosticher, Eléonore Kabouche, Ahmad Reshad, Céleste Laurent, Léah Friedman, Claire Héraud, Marian Vignali, Maria-Magdalena David.
Under the supervision of Laurent P. Berger, Renaud Layrac and Mathilde Roman, Professors at the Pavillon Bosio.
---
Pavillon Bosio, École Supérieure d'Arts Plastiques de la Ville de Monaco
1 avenue des Pins, 98000 Monaco
Exhibition preview: Thursday March 24, 2022, 6 pm
Friday March 25 : guided tours by appointment, from 10am to 5:30 pm
Freen entrance on March 28, 29 and30 from 2 to 5:30 pm